Open Letter to Parents Regarding COVID Vaccination
Part III: Questions to Ask Your Physician
One Pediatrician's Responses
By Robert Rennebohm, MD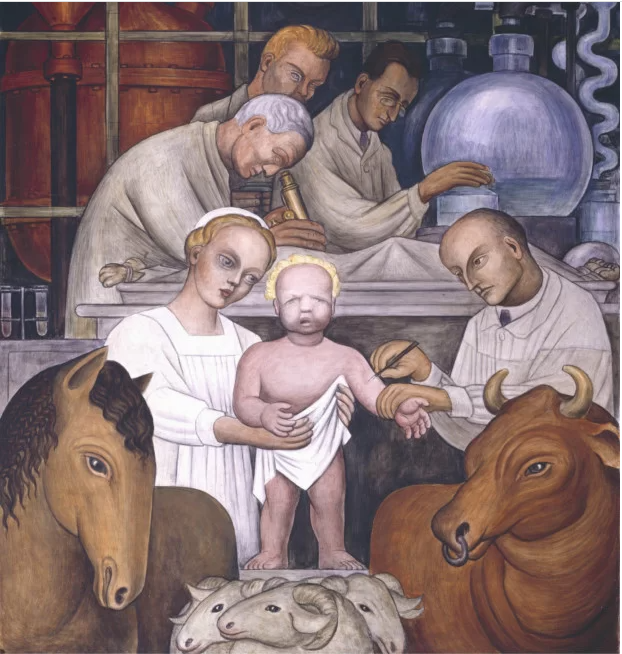 Above: Diego Rivera's depiction of Vaccination, Detroit Museum of Arts, 1932. (See "Afterword" for discussion of this painting. The other paintings in this article are also by Diego Rivera.)
Section 1: Note to Reader; Table of Contents
NOTE TO READER:
Open Letter—Part III (coupled with the original Open Letter* and Open Letter—Part II**) is intended to help parents, grandparents, and physicians to better understand and appreciate the following:
The human immune system is ingeniously complex, beautifully collaborative, extraordinarily competent, and precious. 
The interplay between the immune system and viruses involves complex and delicate adjustments (ongoing counter-moves) on the part of both the virus and the immune system—at both the individual level and the population level.
Compared to the complex, comprehensive, multidimensional, collaborative approach used by the natural immune system (to protect us from infection), the COVID vaccines use a simplistic, unidimensional, exclusionary approach that sidelines and disrupts important components and functions of the immune system.
The mass COVID mass vaccination campaign profoundly disturbs the immune ecosystem, with extremely worrisome short-term and long-term consequences—at both the individual level and the population level.
In fact, the COVID mass vaccination campaign has prolonged the COVID pandemic and made it much more dangerous.
Children, in particular, must be protected from the harmful effects of the COVID mass vaccination campaign—particularly young children.
There is desperate need for a representative panel of international experts—comprised of exemplary virologists, immunologists, vaccinologists, evolutionary biologists, epidemiologists, and other relevant experts—to engage in respectful, healthy, inclusive, honest, objective, rigorously scientific, video-archived, public dialogue about the COVID mass vaccination campaign and the management of the COVID pandemic in general.  So far, such dialogue has not occurred.
Since the WHO, CDC, FDA, NIH, AAP (American Academy of Pediatrics), pharmaceutical companies, conventional media, and most physicians have chosen not to engage in the above-mentioned dialogue and have failed to stop the misguided COVID mass vaccination campaign—concerned, respectful, informed parents and grandparents may be our best hope to bring about an immediate halt to the mass vaccination campaign, until proper scientific dialogue and thorough evaluation occur.
As I repeatedly point out in this Open Letter–Part III, I would much prefer that the 34 questions I have raised be answered, through healthy scientific dialogue, by an above-mentioned panel of experts. Unfortunately, proponents of the mass vaccination campaign have shown no interest or willingness to engage in such dialogue, despite repeated pleas by scientists and physicians (e.g., Dr. Geert Vanden Bossche) who have challenged the scientific merits of the prevailing COVID narrative and its mass vaccination campaign.
In the absence of such dialogue, I have felt a need to at least try to answer those questions and at least try to stimulate, facilitate, and focus dialogue on the most profoundly important aspects of the COVID situation. I have done so reluctantly, by default, and to the best of my ability, in the hope that this document will be helpful. Some of my answers may need to be challenged and some may need to be amended.  I welcome and encourage such challenge and amendment—for that is the purpose and the tradition of healthy scientific dialogue.
Robert Rennebohm, MD
*Link to: An Open Letter to Parents and Pediatricians Regarding COVID Vaccination. This is the original Open Letter. It provides 1078 references:
https://notesfromthesocialclinic.org/an-open-letter-to-parents-and-pediatricians-2/
**Link to: Open Letter—Part II: A Review and Update
https://notesfromthesocialclinic.org/open-letter-to-parents-and-pediatricians-part-ii-a-review-and-update/
TABLE OF CONTENTS
Open Letter—Part III
Section 1: Note to Reader; Table of Contents
Section 2: Key Take-Home Messages 
Section 3: Introduction—True Informed Consent 
Section 4: Background—The Human Immune Ecosystem 
Section 5: Questions Parents Might Want to Ask Their Physician—One Pediatrician's Responses 
Section 6: Afterword 
Section 7: Appendix of Medical Illustrations 
Section 8: References and Links 
To proceed to Section 2, click on the phrase below (Section 2: Key Take Home Messages —>) or go to "Section Navigation" at the top of the page, upper right side, and choose which of the 8 Sections you would like to read